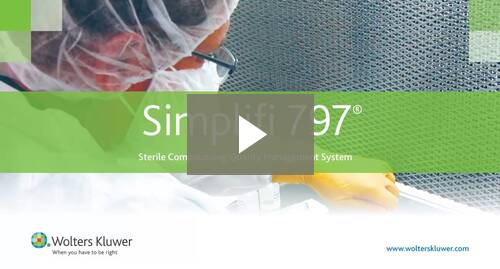 "We have many clinic and clean room locations to oversee at University of Wisconsin Hospital and Clinics. Simplifi 797 allowed us to maintain our documentation electronically and eliminate the need for paper records for many of our compliance documents. This also allows us to standardize the documentation systems at all of our facilities."

David Musa
Assistant Director
University of Wisconsin Hospital and Clinics
Sterile Compounding Quality Management System
USP <797> is an enforceable federal guideline which provides comprehensive quality standards for the procedures used in sterile compounding areas. Increased attention to USP 797 compliance in the wake of several major, well -publicized investigations of compounding facilities has elevated the stakes for pharmacists and pharmacies that compound sterile medications. The failure to adhere to USP 797 standards increases preventable incidents that result in infections or death.
Rely on expert-based USP 797 guidance to ensure compliance and protect patients
Simplifi 797 is a comprehensive web-based quality management system which helps to meet the requirements of USP 797.  It facilitates the ongoing compliance of training, procedures, and documentation essential to patient safety and risk mitigation.  Using Simplifi 797 enables your compounding staff to:
Identify and mitigate ongoing risks
Respond quickly to day-to-day deviations from quality assurance plans with real-time alerts on facility and system-level compliance risks.
Demonstrate compliance
Easily access reports on your compliance trends and issues for hassle-free inspections. Generate reports on trends and analysis by activity, compounding area or facility.
Receive expert guidance customized to your facility
You will receive a quality assurance plan developed by industry-expert Eric Kastango, RPh, MBA, FASHP to meet the specific needs of your facility. This plan includes a full set of policies and procedures written by industry experts and updated with changing regulations.
Educate staff members
Your staff members receive online ACPE-approved sterile compounding training with 30 hours of CE credit. All training is directly linked to USP 797 standards.
As an online application, Simplifi 797 does not require any hardware investment or IT resources.  Implementing the application is straightforward and easy.